ОСОБЕННОСТИ РАЗВИТИЯ ЭКОЛОГИЧЕСКОГО МАРКЕТИНГА НА ПРЕДПРИЯТИЯХ УКРАИНЫ
Ключові слова:
экологический маркетинг, «зеленый» маркетинг, рынок экологических товаров, потребитель, производитель.
Анотація
В статье исследованы теоретические вопросы развития экологического маркетинга на предприятиях. Проведен анализ современного состояния экологического маркетинга. Выявлены проблемы развития экологического маркетинга в Украине. Предложены конкретные мероприятия по внедрению экологического маркетинга на отечественных предприятиях. Рассмотрены перспективы развития экологического маркетинга в Украине.
Посилання
Smirnova, Ye. (n.d.). Ekologicheskiy marketing i yego osnovy [Ecological marketing and its foundations]. Retrieved from: http://www.marketing.spb.ru/lib-m/strategy/eco_marketing.htm. [in Russian].
Shelest, M. N. (2010). Issledovaniye trendov: Gotovy li ukraintsy pokupat' ekologicheski chistyye tovary? [Research of trends: Are Ukrainians ready to buy environmentally friendly products?]. Ukrainskaya pravda – Ukrainian truth. Retrieved from: http://www.epravda.com.ua/rus/press/2010/09/13/24805/ [in Russian].
Sotsial'naya otvetstvennost' ukrainskogo biznesa marketinga [Social responsibility of the Ukrainian marketing business] (n.d.). Ekonomika – Economics. Retrieved from: http://ubr.ua/business-practice/own-business/gotov-liukrainskii- biznes-bytsocialnootvetstvennym-335125 [in Russian].
Teoretiko-metodologicheskiye osnovy strategii ekologicheskogo marketinga [Theoretical and methodological foundations of the strategy of environmental marketing] (n.d.). Vestnik ONU – Bulletin of ONU. Retrieved from: http://visnyk-onu.od.ua/journal/2008_13/15.pdf [in Russian].
Ottman, J. A. (2006). Green Marketing: Opportunity for Innovation. USA: Booksurge LIC [in English].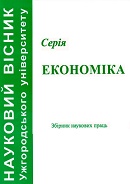 ##submission.downloads##
Розділ
РОЗДІЛ 4. ЕКОНОМІКА ПІДПРИЄМСТВ І ГАЛУЗЕЙ