ІМПЕРАТИВИ МОДЕЛЮВАННЯ ОРГАНІЗАЦІЙНО-ЕКОНОМІЧНОГО ПОТЕНЦІАЛУ РОЗВИТКУ РЕГІОНУ
Ключові слова:
регіональний розвиток, організаційно-економічний потенціал, конкурентоспроможність регіону, моделювання потенціалу, модель, імперативи, принципи.
Анотація
В дослідженні всі імперативи моделювання об'єднані у чотири групи, які відповідають за ізоморфізм, фронтальність, системність, гармонічність моделі. Ізоморфізм забезпечує абстрактність, динамічність, функціональність моделі, а також відповідає за взаємозв'язки та функції організаційно-економічного потенціалу та його складових. До фронтальних віднесено принцип оптимальної простоти, об'єктивності, корисності, міждисциплінарної, підпорядкованості, телеології. В якості системних цілій задекларовані цілеспрямованість відкритої системи, холізм, емерджентність. Останнім імперативом виділена гармонійність.
Посилання
Strategy Report "Mission Economic Development Strategy". Retrieved from http://www.mission.ca/wpcontent/uploads/economic-development-strategy.pdf [in English].
Bazas, M.F., & Starovoit, V.A., & Skorina, V. (2006). Modelyuvannya ekonomichnykh protsesiv ta pryynyattya upravlins'kykh rishen' [Modeling of economic processes and the use of administrative solutions]. Mizhnarodnyy zbirnyk naukovykh prats – International collection of scientific works, 3, 6, 33-39. Retrieved from http://eztuir.ztu.edu.ua/ 4589/1/ 33.pdf. [in Ukrainian].
Gumenyuk, G. B., & Khomenchuk, V. O., & Zinkovska, N. G. (2017). Vydy modelyuvannya dovkillya ta osoblyvosti yikh vykorystannya [Types of environmental modeling and peculiarities of their use]. Naukovi zapysky Ternopilʹsʹkoho natsionalʹnoho pedahohichnoho universytetu imeni Volodymyra Hnatyuka. Seriya : Biolohiya – Scientific Notes of
Ternopil National Pedagogical University named after Volodymyr Hnatyuk. Series: Biology, 3, 123-129. Retrieved from http://nbuv.gov.ua/UJRN/NZTNPU_2017_3_25 [in Ukrainian].
Izomorfizm i homomorfizm. Filosofskaya ektsyklopediya. [Philosophical encyclopedia. Isomorphism and homomorphism]. Retrieved from https://iphlib.ru/greenstone3/library/collection/newphilenc/document/HASHec884f219e418110e4f8ec [in Russian].
Kirdina, S. G. (2013). Preodolevaya ohranycheniya metodolohycheskoho individualizma [Overcoming the limitations
of methodological individualism]. Zhurnal ékonomycheskoyteoryy – Journal of EconomicTheory, 4, 100-111. Retrieved from http: //www.xn--80ahlbhvs.xn--p1ai/doc/news/14feb14/1.pdf [in Russian].
Kubiniy, N.Y., & Sheverya, M.Y., & Kubiniy, V.V. (2013). Printsypy modelirovaniya sistemy aktivizatsii stratehicheskoho potentsyala ekonomiki [Principles of modeling the system of enhancing the strategic potential of the economy]. Vestnik Polotskoho hosudarstvennoho universiteta – Bulletin of Polotsk State University, 43-46 [in Russian].
Kubiniy, V.V. (2007). Tekhnolohiya stratehichnoho upravlinnya [Technology of Strategic Management]. Naukovyy visnyk Uzhhorodsʹkoho universytetu.. Seriya: Ekonomika – Scientific Bulletin of Uzhgorod University. Series: Economics, 22, 3, 293-295 [in Ukrainian].
Malskaya, M.P., & Bordun, O.Y. (2012). Orhanizatsiya ta planuvannya turystychnykh pidpryyemstv: navchalʹnyy posibnyk [Organization and planning of touris menterprises: a manual]. Retrieved from https://idruchniki.com/ 17771110 / turizm / organizatsiya_ta_planuvannya_diyalnosti_turistichnih_pidpriyemstv [in Ukrainian].
Miklovoda, V.P., & Kubiniy N.Y., & Shandor F.F., & Shelkunova O.S., & Koval O.D. (2009). Marketynhovyy potentsial rehionu : problemy ta shlyakhy yikh podolannya: monohrafiya [Marketing potential of the region: problems and ways to over comethem: monograph]. Uzhgorod: Lira. [in Ukrainian].
Moshak S.М., & Miklovoda V.P., & Shandor F.F., & Kubiniy N.Y., & Kubiniy V.V. (2017). Stratehichne upravlinnya konkurentospromozhnistyu: systemnyy metod ta ekzystentsial'na ekspozytsiya: monohrafiya [Strategic Competitiveness Management: Systematic Method And Existential Exposition: Monograph]. Mukachevo: Karpat·s'ka vezha. [in Ukrainian].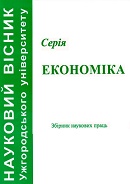 ##submission.downloads##
Розділ
РОЗДІЛ 3. РЕГІОНАЛЬНІ СОЦІАЛЬНО-ЕКОНОМІЧНІ ДОСЛІДЖЕННЯ